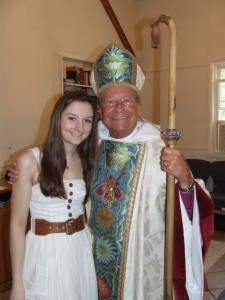 I have been a member of Holy Cross my whole life.  I was baptized here as a baby, I attended the first Atrium in the basement of the old church, and grew up enjoying all the levels of the Atrium and the Youth Group. My experience here has left me with a deeper understanding of community and has given me countless opportunities to open a new window into the rest of the world.  Not only is Holy Cross a place for my family, but it is a place for everyone to gather and support each other all as children of God.  Holy Cross continues to be the foundation for all of my beliegs, as well as somewhere I can just be myself.
Although Holy Cross is the only church I have ever known, I have a strong feeling we are very unique.  When I discuss church with my friends from Bishop Brady High School, they exhibit the typical "teenage" responses of an overwhelming dread of Sunday mornings.  Not only do they have to be dragged out of bed at an extraordinarily early hour, but they have to spend time with just their family.  The fact that I have to spend time with my family at church doesn't phase me much though, it's actually one of my favorite aspects of Sundays.  Holy Cross has introduced a time to build a stronger relationship with my family away from the stress of our busy schedules.  I can't imagine my life without this place because everyone here has become a member of my larger family. 
This is a place where we can sing as loud as possible, no matter how our voices sound, a place where I can sit by myself and still feel like I'm included as a part of the family and a place where we are amused rather than bothered by the talkative children during the service.
This place is home, to all of us.